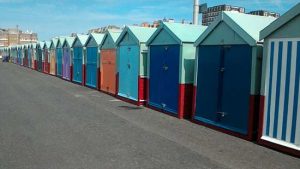 One Hour Beach Bike Tour - Less chat, more sights
Visiting Brighton & Hove and have heard how our great seafront has lots of sights to see? If so, and you're hoping to see as many as them as possible but don't want to spend all day doing it then our One Hour Bike Tour is what you need.
Morning start to avoid the crowds, 1 hour bike tour
Less talk, more sights - £12 per person bike tour, includes bike, helmets and guide. Children under 10 £6
White Cliffs, Marina, Beach Huts, i360, Nudist Beach [bathing optional
Meeting point, Brighton Beach Bikes, next to Brighton Pier, first landmark ticked off already. The tour leaves at 9.30am to make use of the quieter cycle lanes.
* Whilst we always try to accommodate, we can't guarantee a tour is going to take place if not pre booked. Give us a call if in doubt.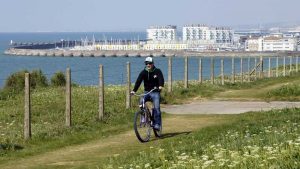 White Cliffs to Rottingdean Village - Two hours bike tour on the incredibly scenic route to Rottingdean Village, former home of writer Rudyard Kipling.
2 hour bike with stunning scenery on flat virtually all traffic free roads.
Take in Kemp Town, Roedean and Marina on the way to Rottingdean.
Rottingdean is a village that dates back further than Saxon times.
Former home of Rudyard Kipling, author of The Jungle Book.
Oldest public house in Brighton area.
The tour is £20 per person and requires a minimum of two people for a tour to go ahead.
Bikes, helmets and guide are included. Children under 10 £8
The tour leaves at 10.30am in the morning.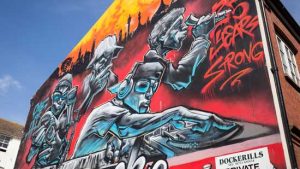 Treasure Hunts - Beach or City Based
Looking for an adventure to excite the family or provide a hen or stag party challenge on your visit to Brighton & Hove?
Our treasure hunt packages will give you two hours of fun ready to go, with the added bonus of a tour of the town or beach thrown in. Add a bit of history and it's a full Brighton learning experience.
Choose from Family Fun Beach Treasure Hunt, Family City Quest or Brighton Musical Journey.
All treasure hunts are £20, you will receive an instruction sheet, a clues sheet and an answer sheet. Once payment has been submitted you will receive the documents, at this point no refunds can be made at any time.